If your site isn't converting nearly the volume of leads you'd hoped, there's a good chance that your forms are to blame. MarketingSherpa has found that 56% of marketers believe that optimizing form logic can have a significant impact on lead generation. Even worse than low lead generation is converting a massive volume of unqualified leads due to rigid and difficult-to-use contact forms that are just too much trouble to customize.
Even if you've already picked a contact form for your WordPress tools, it's worth your time to click through to Responsive Contact Forms, and consider whether this plugin is a better use for your needs. Unlike many other alternatives that claim to be simple but force you to wade through CSS for any level of customization, this provides a totally simple means for you to determine the headers, fields, and recipient of each form on your WordPress site: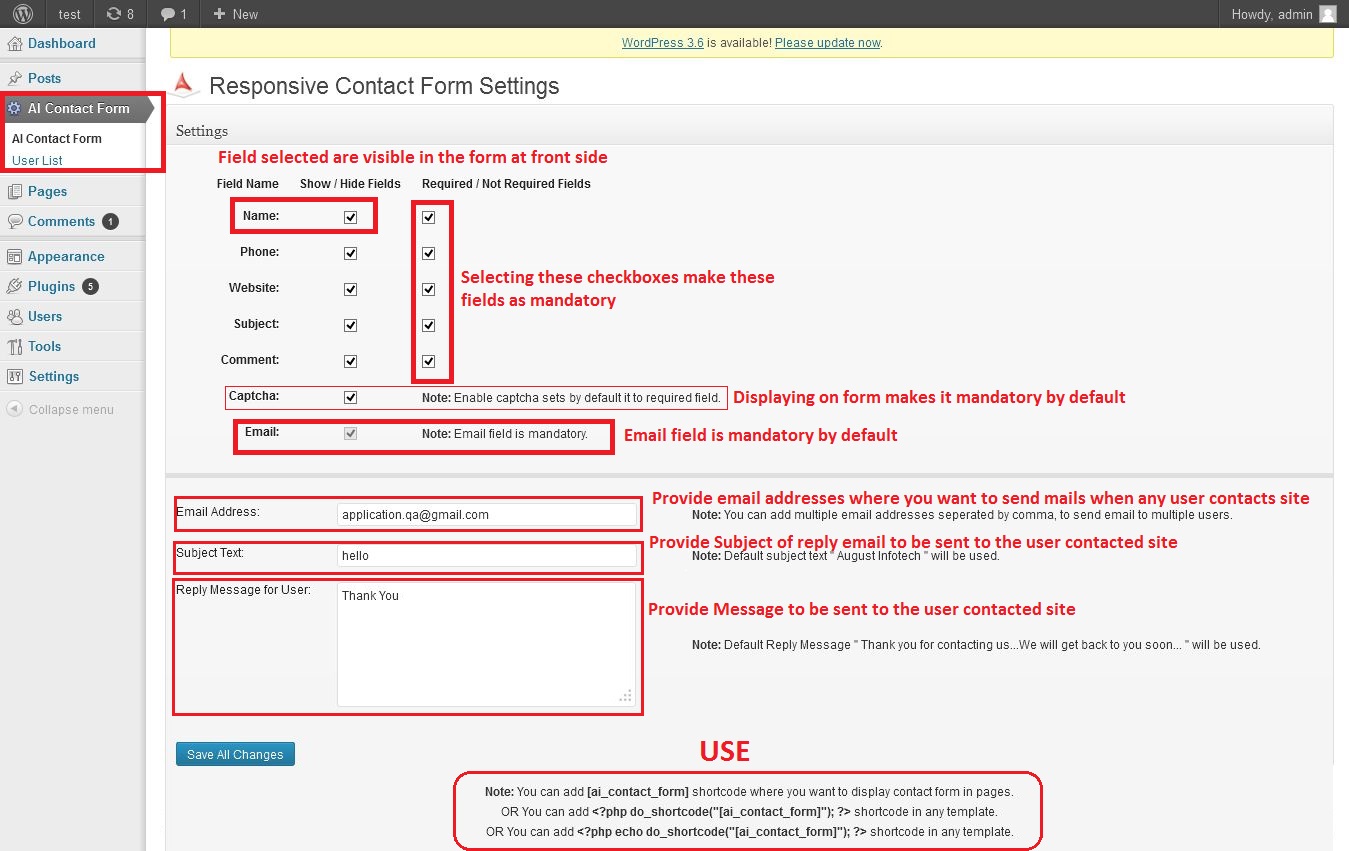 As we all know, it's pretty hard for tools to strike the perfect balance of flexibility, while still allowing users the ability to customize fully. I believe wholeheartedly that this tool is as close as it comes for landing page forms to improve your websites conversion rate. Thanks to the easy-to-edit capabilities, it's easy to continually iterate, improve, edit, and launch improvements.
Are your clients' widgets something of a mess? Or even worse, completely nonexistent? Marketing psychologist Derek Halpern recently reported that well-designed sidebars were often the most important element of websites, and streamlining appearance can lead to a 26% increase in conversion rates! Remember, clutter and mess can be even worse than no sidebar widgets at all.
Wpmudev's Custom Sidebars WordPress tools are the single most effective way for you to take total control over the sidebar of a website; maximizing your conversion rate by filling the site with enticing calls-to-action. It's important to note that if you're using themes, this will only work with one that accepts widgets.
With the help of Custom Sidebars, it's easy to convert any space on a website into a custom sidebar, fill this space in with widgets. The magic doesn't just happen site-wide, it also works on a per-page or per-post basis. This makes it easy for you to add or update calls-to-action according to post category, post-type, or even author as new eBooks, whitepapers, sales, and deals are released.
All it takes is a few clicks over to Amazon, Walmart's eCommerce website, or travel site Kayak to know that dynamic content is the next big thing. Brands that are able to provide a customized browsing experience and personalized product recommendations to prospects and customers are sure to see improved sales and conversions. Recent studies of marketers have found that content personalization engine adoption is a priority for the majority of your competitors and peers.
Thanks to Web Kite, this capability is well within reach. Use this WordPress plug-in to build customized lists, in order to provide highly personalized product recommendations and content suggestions based on your visitors' behavior and browsing history: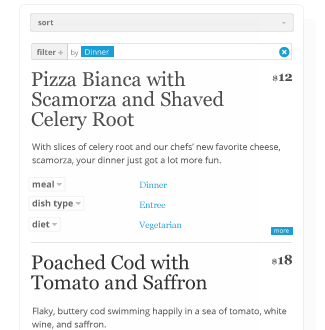 Image source
And no, Web Kite's technologies don't just stand to benefit eCommerce brands or restaurants attempting to upsell their web customers. Intelligently-built lists in this tool have a ton of potential for prospect education, lead nurturing, and even customer loyalty programs. While there is some time commitment involved in putting lists together in their WordPress tools, you won't need to worry about a sharp learning curve with this platform.
Who needs online pricing information? If your client has any kind of standardized pricing structure, it's a safe bet this information should be included on their web site. Recent studies on "the disappearing sales process" have found that 70% of buyers' research takes place online and through other means without talking to a company representative. Failing to include pricing information could decrease sales volume more than it increases sales engagement.
With the help of Easy Pricing Tables, virtually anyone can create a powerful, attractive, and effective pricing chart in just minutes:

Image source
While the option this plug-in emulates was popularized by software-as-a-service companies, it's highly effective for organizations in any industry. Best of all, the colors are fully customizable, and no coding is required.
Every designer needs at least one responsive content slider in their WordPress tools kit, to provide clients with a dynamic and attractive homepage experience on all devices. SlideDeck is the best we've encountered, due to ease of use and its ability to integrate social content. 12 different forms of content are currently available for inclusion in the free version of this tool, which range from YouTube videos to Flickr images. An upgrade to premium expands your options even further, allowing you to integrate content from sources like Facebook or NextGen gallery.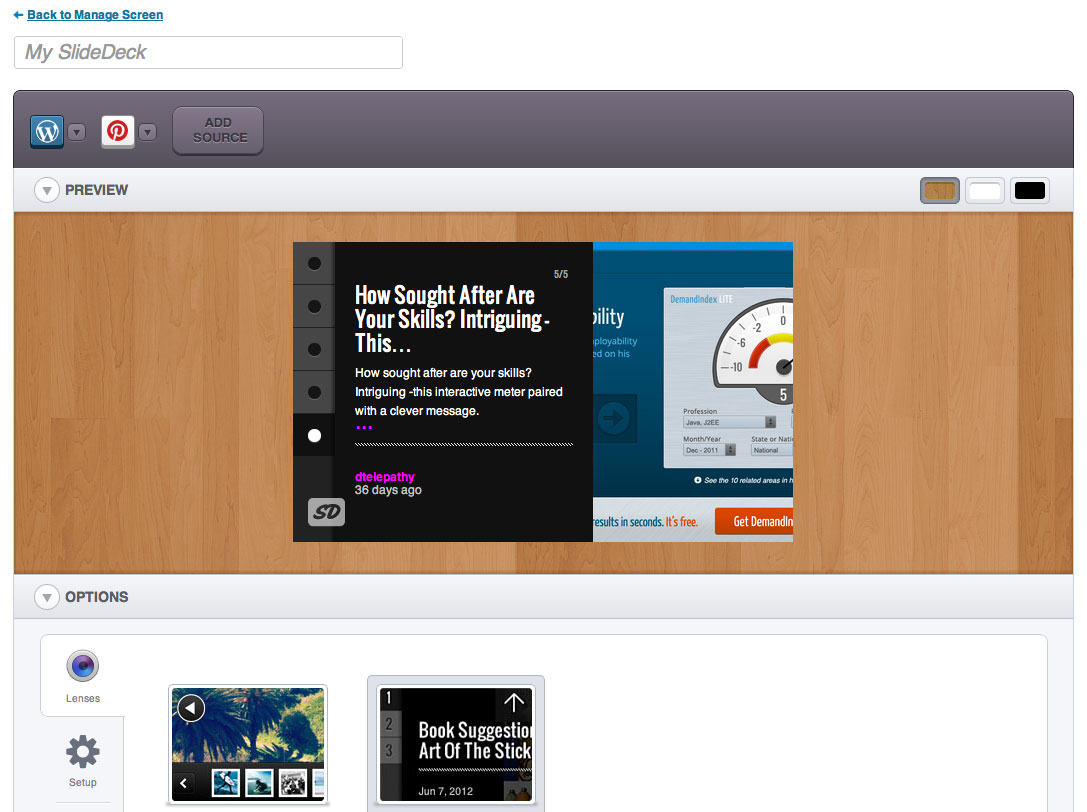 As shown in the image above, the editing interface requires no coding. Your commitment is as simple as creating content in WordPress' blog editor, which are copy, paste, drag and drop.
What WordPress tools or Plug-ins are a must-have in your design arsenal? Share your favorites in the comments!