There are apps for entertainment, social networking, gaming, information, productivity, etc. Today, the mobile application market is growing at a rapid pace. But programming skills are necessary to turn app and software ideas into reality. Those who do not have such skills don't stand a chance in the mobile markets unless they invest significant funds in their idea by paying for coding services.
But some free online tools are here to help you out to create apps for various mobile platforms with zero coding knowledge. You simply have to provide the content and idea into the right tools, select themes, and voila! The app simulator takes care of the rest. The best part is that these online tools are absolutely free!

Best Sites To Create Free Mobile Apps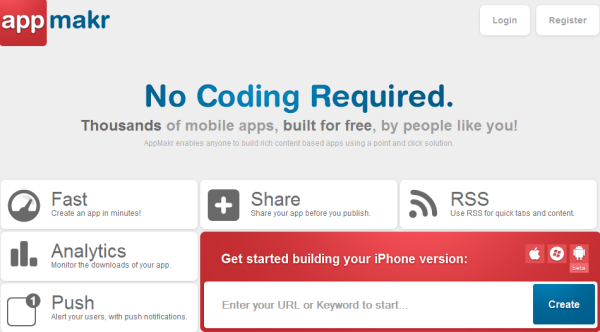 AppMakr is arguably one of the best sites to create free mobile apps without coding requirments. The entire process of creating and designing the app including the execution is dead simple. With the free account you can create a basic-styled (no dearth of options though) apps and there is a variety of features and customization options as well. AppMakr also guides you through the entire procedure of creating your app. Images, Text, Audio and even HTML can added. Every change or edit you make is simulated simultaneously in the simulator.
After finishing with the app, AppMakr also helps you to publish it to the platform of your choice. Do note that all apps from a free account will have ads; you must upgrade to a premium account in order to remove those ads.
Platforms: iOS, Android, Windows Phone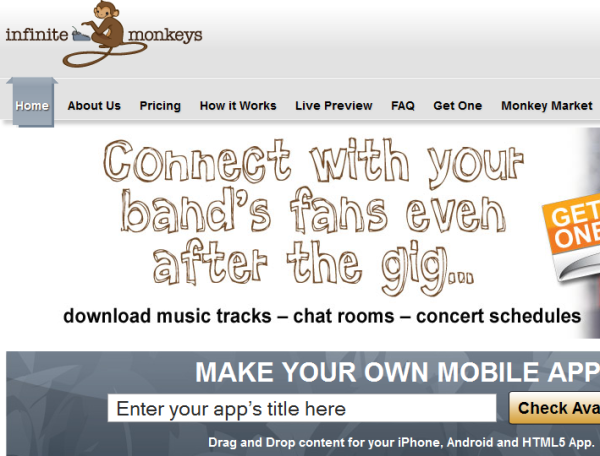 Their state that creating an app through their online tool is as easy as peeling a banana. Truly, no coding is required and the site uses basic gestures such as drag and drop to simplify the app creation process. Images, text and icons can be added as desired. To publish the app on the respective app platform, just specify app information and everything will be taken care of. Once again, it has apps by default and can be removed only by paying for premium features.
Platforms: iOS, Android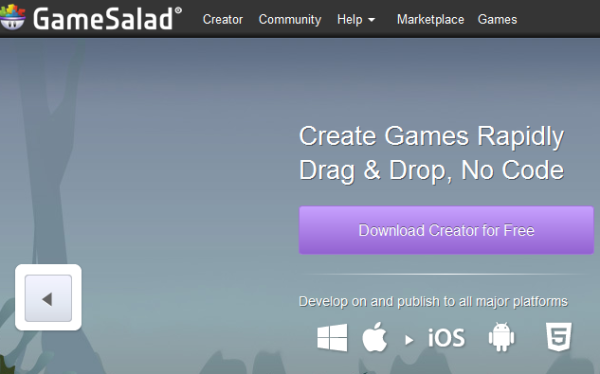 If creating gaming apps is what interests you, then GameSalad is your best bet. Just begin creating by filling in details such as name, description, etc. Next, you have to perform the actual development in the Scenes mode. You can easily add characters, backgrounds too. Once you are done, you can test your game on devices of your choice to fix any issues that you may encounter. Publishing apps is real easy here as well.
Platforms: iOS, Android

Conduit is very much similar to AppMakr. Getting started is quite easy, if you have a webpage of your business, then you can type in the URL and it will pull the content from there. It can also import content from your Facebook page. You can customize the content, look and feel of the app. The changes that you make will be reflected in real-time on the cross platform app simulator on the right side of the screen. You can also monetize the apps through ads.
Conduit also provides a way to test your app on a mobile device; you just have to download its mobile testing app 'Conduit Re Vu' and then download your app using the code. Overall, another great tool for app development without coding.
Platforms: iOS, Android
These were the top sites to create free mobile apps for various platforms without coding knowledge. Hope you liked our compilation.
Do share with us in the comments section if you've tried out any of these tools or have used more such such similar tools.